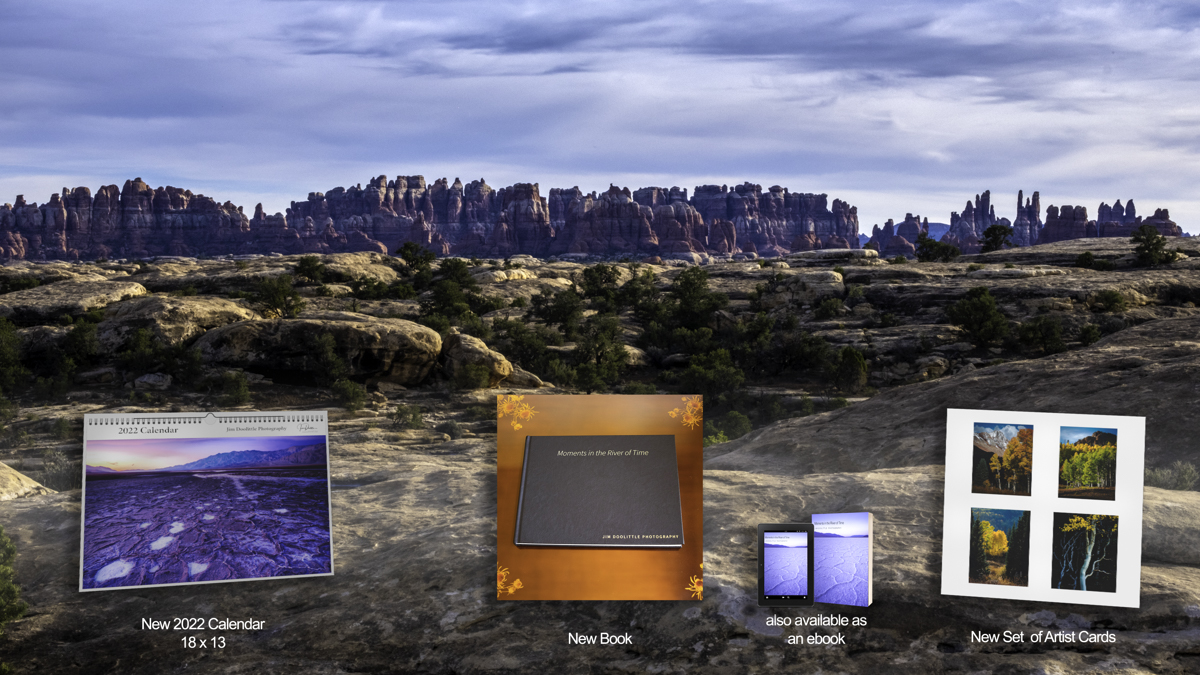 New Calendar, Book and Artist Cards
Hello!
Thanks for taking the time to read this. First off I want to introduce you to a few new offerings that share newly released images you can enjoy throughout the year and give to others as a gift that continue to give. Click on the each heading to view the product pages.
I listened to your requests for a larger calendar. This year's calendar is 18″ x 12″. It is printed on writable paper so you can still make notations on a date. I have kept the original aspect ratio of the photos so the compositions are preserved. It is always a challenge to narrow the image selection down but I hope you enjoy this year's selection which includes scenes from each season. I will not be self-printing calendars going forward. I started doing this initially to be able to control the qualities of the print but I have now connected with Saal Digital for the printing. They do a really good job and I am able to use ICC profiles so I can match my vision for each photograph to the paper they use. I used them for my book, Moments in the River of Time. I also trashed the feed on the printer I used the last two years for printing the calendars. My calendar is a great way to enjoy 13 of my favorite images for less than the cost of one small print. The calendars are now available for pre-order here.
My new book started out as a 2019 portfolio and somewhere along the way I decided to add some images from before and since. It contains moments captured doing landscape photographs, chronicling outings, experiences, thoughts, travel, fun and technique. I enjoyed returning to the time of capturing each of these images, many of which you may have seen. I share my experience at that time, the feelings, my vision for the composition and how I went about capturing that vision.
Excerpt from the introduction:
There is always a beckoning in me toward something more contemplative, quieter, a feeling. There is no questioning why as the moments of creation are silent and clear as the predawn mornings I enjoy. The following photographs and their stories are a partial selection of a journey over the past three years, chronicling outings, experiences, thoughts, travel, fun and technique.
Includes a free copy of the ebook that has links to purchase discounted prints from each photograph. Upon purchase of the book you will be provided with a coupon code for the discount.
This book will be printed by Saal Digital. The quality and accuracy of the prints is excellent. The size is 12 x 8 and is printed on high quality paper. It is bound with a black leather cover. This is a coffee table book that can be enjoyed for years. It is kind of expensive as they are printed to order but again there is tremendous value considering you'll have printed copies of many of my favorite photographs. If you would like to view it online, I have published an ebook that is available to download.
The new collection consists of four images taken during fall color in SW Colorado 2021. Many of you have requested artist cards to purchase as gifts for the upcoming Holiday season so I happy to offer these newly released images for the set. Artist cards of beautiful landscapes make the perfect holiday gifts. I personally print them to use as Christmas cards. The inside is blank so there is plenty of room to write your own expression to your friends and loved ones.
Each set of eight includes two cards of each image. The 5 x 7 cards are printed on Moab lasal matte premium archival fine art paper. Includes envelopes and is packaged in a clear plastic box. The perfect gift for the Holiday season, birthdays or any other occasion.
Upcoming
For the past several years I have been using Instagram and Facebook to share new photographs. It was faster than writing a journal post and with Instagram I was able to reach a new audience. I was very busy with other commitments during this time so it made sense to me. Now that I am retired from my business, I have more time to return to sharing through my journal and newsletters. I enjoy writing so it offers an opportunity for that as well. The other thing that is going on is I have become very disenchanted with social media, especially Facebook. My photography page on Facebook doesn't even reach the people who have liked and followed it because FB wants me to advertise for that to happen. I'm not sharing my photography to make money, I'm sharing it because it has deep meaning for me and I want my friends and others who appreciate it to be able to enjoy it. I am not in the least interested in Zuckerberg's continuing vision for the Meta Universe, his idea that we can all put on googles and interact with each other, it's just his continued efforts to addict as many people as possible to technology so he can feed our brains with advertising for stuff we don't need. All this is exactly the opposite of what my photography is about, leaving all technology behind except my camera and venturing out into beautiful nature settings that still abound on our planet to enjoy that beauty and the fullness of the solitude.
I will continue to post some images on Instagram as it still seems to reach a wider audience but I will use my journal to share much more now that I have the time. I am considering ending my use of my personal Facebook page as well. Again we are subject to their algorithms as to whose posts we see and who sees ours, so for me it has lost its original intent which was to reconnect with old friends and stay in touch. I would much prefer to reach out on the phone or even with a message and have a real interaction. Lisa and I have enjoyed hosting friends and family the past year and having quality time with them creating memories and making plans to spend more time together in the future. This is real interaction, full dimension interaction, not one dimensional feelingless hit of a like button or a quick comment. I am still considering how to make this transition so that I can continue to stay in touch but it is coming and I'll keep you posted.
Thank you again for taking a few minutes to read this post. As always I welcome your comments and if you are new to my landscape photography or have found yourself here from social media, please consider subscribing to stay in touch with future offerings and photographic adventures.
Cheers Everyone!